Wenzhou, located on the southeast coast of China, is a famoushistorical and cultural city in China with a history of more than2,200 years.
Wenzhou has three national-level scenic spots, namelyYandang Mountain, Nanxi River, and Baizhangji Waterfall-Feiyun Lake, and two national-level nature reserves, Wuyanlingand Nanji Island.
Wenzhou pioneered the world-renowned 'Wenzhou Mode'and took the lead in market-oriented reforms as a pioneer andpathfinder.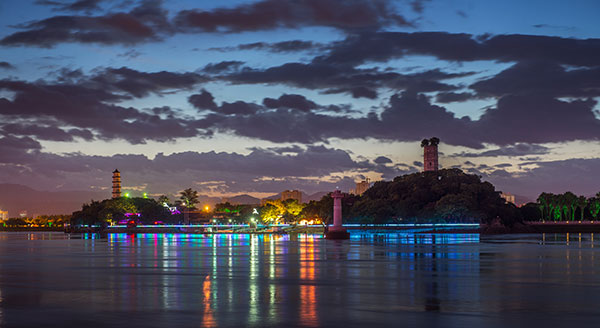 Wenzhou has an unparalleled group of Wenzhou businessmen.They have set foot in 131 countries around the world in theirentrepreneurial efforts. On average, one in every nine Wenzhoupeople runs businesses.
Wenzhou initiated the creation of China's first new era twoaspects of healthy development ' pilot zone and nationalindependent innovation demonstration zone and started tointegrate in to the national strategy of integrated developmentin the Yangtze River Delta, striding forward on the greatjourney of the new era.

aa
WENZHOU'S POLICY ON SUPPORTINGINNOVATIVE TALENTS & TEAMS
Top talents
Category A talents (based on the latest Wenzhou high-leveltalents classification catalog, similarly hereinafter), who areacademicians from China or developed countries, winners ofthe highest national science and technology awards and othersselected through independent application or newly introducedfor full-time positions, will be awarded a comprehensiveaward of 20 million yuan after a recognition process, including5 million yuan individual incentive, 5 million yuan housingpurchase subsidy and up to 10 million yuan scientific researchfunding.respectively. If a talent purchases the first commercialhousing in Wenzhou, the loanable amount of his/her housingfund can apply for the loan according to the maximum amountof the housing fund loan in the place of loan after the downpayment is paid according to the prescribed proportion.
Advanced talents
Category B and C talents who are selected throughindependent application or newly introduced for full-timepositions will be awarded a comprehensive award of up to 10million yuan and 5 million yuan respectively after a recognitionprocess, including up to 4 million yuan or 1.5 million yuanindividual incentive, 1 million yuan or 800,000 yuan housingpurchase subsidy, 5 million yuan or 3 million yuan corporatescientific research funding.
High-level talents
Talents who are selected for the innovative long-term projects,entrepreneurial projects and short-term projects of WenzhouCity 'Global Elite Introducing Plan' will be awarded individualincentive of 300,000 yuan, 300,000 yuan and 150,000 yuanrespectively; units introducing overseas engineers andoverseas expert and intelligence projects will be awardedincentive for introducing talents of 100,000 yuan and 50,000yuan respectively; outstanding talents, leading talents andyoung top-notch talents of the Wenzhou City 'Special SupportPlan for High-level Talents' will be given special support of500,000 yuan, 150,000-400,000 yuan and 150,000-400,000yuan respectively.
Young Talents
Doctoral candidates under 35 years old, and full timepostgraduates and undergraduates that graduated from top200 university in the world or world-class universities and firstclassdisciplines in China, will receive an employment subsidyof RMB60,000, RMB40,000 and RMB30,000, respectively, ifthey newly come to Wenzhou for a full-time job. The subsidywill be given in two years.
High-level Innovation Teams
Subsidy is given according to Excellent Team (Class I),Outstanding Team (Class II), Leading Team (Class III) andDistinctive Team (Class IV). Science and technology teams ofthe above classes will receive RMB30 million, RMB10 million,RMB5 million and RMB1 million respectively for team building.The subsidy for teams of other categories shall be half that ofthe science and technology teams.
Support for Talent Entrepreneurship Project
Six ten-million supports are provided for leading talentsto start their own business (startup fund of up to RMB10million, startup development award of up to RMB10 million(accumulative), R&D investment subsidy of up to RMB10million, investment and financing award of up to RMB10million, preferential credit loan of up to RMB10 million, andloan guarantee of up to RMB10 million)